Britta Thomas is an Ojai cellist available for weddings, parties, and other events in Ojai,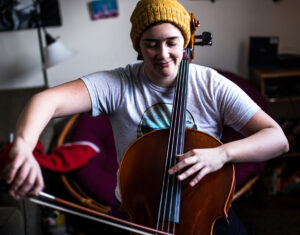 Ventura, Santa Barbara, and surrounding areas.
Britta was raised in Montana and began playing the cello at the age of eleven through the public school music program. She received two degrees from the University of Montana: a Bachelor of Music in Cello Performance under Fern Glass Boyd and a Bachelor of Arts in German language and culture. During her undergraduate studies, she was an active solo, chamber, and orchestral performer. Her success within the university earned her several awards and scholarships for her outstanding performance in the field of music.
She has a particular fondness for orchestral ensembles and has performed in many orchestras throughout the state of Montana, often as principal cellist. In addition to performance, she is an avid teacher of both private and group cello lessons, teaching a variety of music genres and techniques. Britta is currently pursuing a Doctorate of Musical Arts at UC Santa Barbara under the instruction of Jennifer Kloetzel.
For more information and to hear audio clips please click here.