Ojai String Quartet, The Grand Master String Quartet has been performing for weddings and other events in Ojai, California for many years. They are frequently hired to play for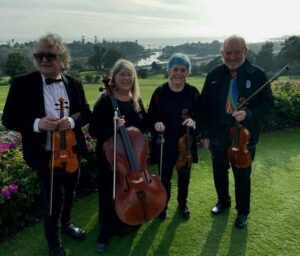 wedding ceremonies at the Ojai Valley Inn and other Ojai Valley wedding venues. They are available as a string quartet or string trio both of which can be varied with the inclusion of flute, clarinet, oboe, or trumpet. They are members of local orchestras and also tour abroad. They also record for TV and films and have done live performances with acts such as David Benoit, Seth MacFarlane, Electric Light Orchestra, Frank Sinatra Jr., Hiroshima and Riders of the Purple Sage.
Their repertoire includes classical selections in addition to arrangements of more recent popular music. So if you need a string quartet or string trio for your wedding or party The Grand Master String Quartet are local and thoroughly qualified. For more information and to hear audio clips please visit our page String Quartet.