The Equinox Ensemble is a Santa Barbara Latin Jazz band available for weddings,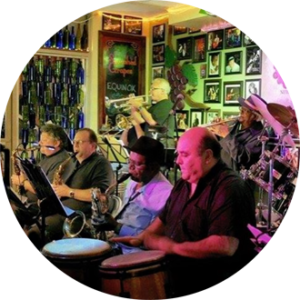 parties, and other events in Santa Barbara and surrounding areas. Formed in 1999, Equinox Ensemble is a ten piece band with six horns, piano, bass, drums, and percussion. Their repertoire includes mainstream jazz, classic bebop, jazz rock, and Afro-Cuban/Latin jazz.
The current lineup of Equinox Ensemble features leader Rafe Hernandez on trumpet and flugelhorn, Jack Perr on  lead trumpet and flugelhorn, Larry Jones on trombone, Bob Hackett on alto sax, soprano sax, and flute, Dave Tolegian on tenor sax, soprano sax, and flute, Ernie Towler on baritone sax and flute, Koji Ono on piano, Jeff Falkner on bass, Dave Renick on drums, and Raul Rico on congas.
For more information and to listen to audio clips please click here.