Dan Willard Classic Rock Band – Rock & Roll from the 50's-70's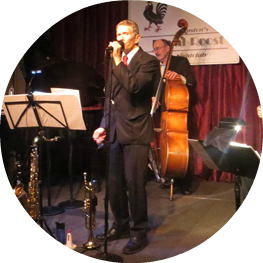 Led by vocalist and sax player Dan Willard, this group of seasoned professionals specializes in music from the 1950′ to the 1970's including selections from Elvis Presley,  Ivory Joe Hunter, The Beatles, Creedence Clearwater Revival, The Kinks, The Rolling Stones, The Doors, Roy Orbison, and more.
Dan Willard (Vocals/Guitar/Keyboard/Sax)
Dan's bio can be found here.
Ron Aggabao (Guitar)
Ron spent several years touring the US as a lead guitarist for some of the country's top world-music acts, eventually landing in Southern California, where he currently keeps busy as a lead and solo guitarist, bassist, piano accompanist, songwriter/ arranger, and studio musician. Ron is currently on staff at the Santa Monica Academy of Music, where he teaches guitar and piano.
Aaron Embry (Piano/Keyboard/Vocals)
At age 19, Capitol Records signed him to a two-year development deal as a solo artist. He played piano and guitar with Elliott Smith. Aaron later became the leader of the indie-rock group Amnion, helping write the group's songs. He has remained a frequent touring musician, working for musicians such as Willie Nelson. He played piano on the debut album Up From Below, and was then the touring piano player with Edward Sharpe and the Magnetic Zeros from 2009–12. In August 2012 he booked a string of dates opening for Mumford and Sons.
Garrett Miller (Drums)
Garrett studied with Tony Harris, Al Velasquez, and Gregory Hutchinson. He attended Standford Jazz Workshops in 1997 and studied percussion performance at CSULB with Dr. Michael Carney.