Women of Note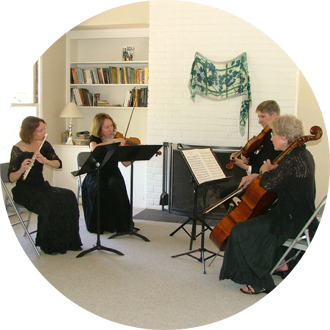 Women of Note chamber ensemble was founded in 2001 by violinists Julia South Lattimer and Sharon Cooper along with Janet Bergamo, cellist. Now anchored by Bergamo and Cooper in Ventura County, the ensemble is available not only as all-string trios, quartets and duos, but also using flute, including core flutist Mariana Smith, as well as other wind instruments such as oboe, trumpet, and clarinet.
As an ensemble, the Women of Note have performed scores of ceremonies, receptions and civic events at major hotels and restaurants, churches, theaters and scenic sites in Ventura, Santa Barbara, Los Angeles, and Orange counties. Equally comfortable on the concert stage, these musicians have played concerts on chamber music series, college faculty and guest recitals, and for charitable benefits.
As individuals, these players perform as solo and section players in orchestra concerts in the US, Europe and Australia, theater pits in the southwest US and recordings of classical, pop, world and church music as well as film and TV scores. You may have heard them accompany popular stars like David Benoit, Seth MacFarlane, Electric Light Orchestra, Frank Sinatra Jr., Hiroshima and Riders of the Purple Sage. They serve in various capacities on the staffs of schools and colleges in Ventura County and maintain their own private teaching studios.
The Women of Note ensemble has a wide-ranging repertoire, and can include special selections requested by clients. Whether the venue is indoor or outdoor, Women (and Gentlemen associates) of Note are adaptable to a variety of special occasions and concerts.