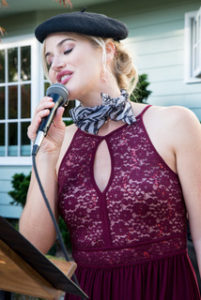 Danielle is a multi-disciplinary performing artist with diverse professional qualifications. She acts on-camera in TV, film and commercial productions; and on-stage in musicals, plays and operas. She is also a choral singer and conductor, private voice teacher, and vocal soloist.
Currently based in Los Angeles, Danielle was born and raised in Santa Cruz, California. Danielle graduated cum laude from UCLA with a BA and highest honors from the musicology department. She then pursued a masters degree from San Jose State University in Voice Performance, where she was privileged to study with mezzo-soprano Layna Chianakas. Danielle was the vocal winner of the 2010 Concerto Competition at San Jose State and the national anthem soloist at commencement.
A classically trained soprano of Norwegian heritage, Danielle has specialized in art song from Nordic countries and she sings in Norwegian, Icelandic, Danish, Finnish, and Swedish. She also enjoys performing standard lyric soprano repertoire in English, German, French, and Italian, as well as less-commonly performed pieces in Spanish, Portuguese, Catalan and Russian. She has received recognition for her art song work by the National Association of Teachers of Singing-Bay Area, and a grant from the Scandinavian Cultural Center of Santa Cruz for her work in Scandinavian song.
She has been a soloist with the San Jose Wind Symphony, Monterey's Del Monte Brass Band, and San Jose State's Wind Ensemble, Jazz Orchestra, and Symphony Orchestra. She is available for live performances and special events.