Rebekah Scogin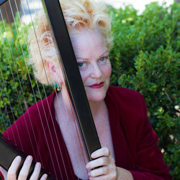 Rebekah Scogin is one of our master music artists. She is performer of accordion, piano, mandolin, electronic harp, and the balalaika. She received her graduate music degree at the University Of California, Santa Barbara for classical piano. Her whole life passion has been the study of the harp. She was born in Georgia, but was raised in Southern California, where she excelled as a performer & music teacher. She performs with the famous Martinez Brothers. She advocates the next younger generation of kids that love music. Rebekah states: "With kids, I foster the love of music that turns into determination; then with discipline, they choose to go from hobby to music profession".
Her repertoire includes music from many cultures: Middle Eastern, French, Italian, Irish, Scandinavian, Jewish, Euro- Slavi, Polish, Russian and Gypsy styles.
Genres include classical, rock ballads, latin jazz, folk, polkas and Cumbias. Her favorite is Cumbias (like Mexican Tejano reggae), plus eastern Euro polkas, Slovenian, Bosnian polkas, and the unusual eastern Euro and Turkish Greek Armenian dances with incredible rhythm.