Barry Cooper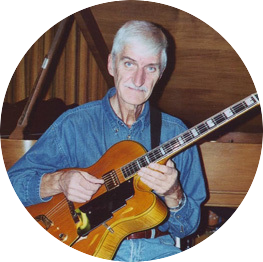 Barry Cooper was born in a small town just outside of Liverpool, England. He started playing guitar at age seventeen and by age twenty was playing professionally. By this time rock and roll had taken Liverpool and most of the UK by storm but Barry had visions of a long time career in music and chose to become a journeyman musician.
By age 25 he was a full time professional working for the Mecca Dance Corporation which had ballrooms in every major city in the UK. He toured Europe twice playing at U.S. military bases and also worked for Princess Cruise Lines on the West Coast of America.
Barry moved to Los Angeles in 1976 initially playing in clubs and restaurants. By 1980 he was a regular performer in the "casual" circuit, playing every major hotel, country club, restaurant in Beverly Hills and in private residences such as the Playboy Mansion.
He has accompanied numerous vocalists including Roberta Lynn, Buddy Greco, Rosemary Clooney, Paul Williams, Natalie Cole, Maureen McGovern, Anita O'Day, and Waylon Jennings. Barry recorded a solo guitar CD in 2001 and has also recorded with the Dick Carey Tuesday Night Band. He moved to Santa Paula in 2006 and has played with many of the local big bands, in restaurants, and numerous private engagements.