Dan Willard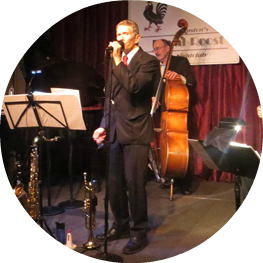 Dan Willard started voice lessons at age seven. While still in high school he was the lead singer in his own rock band, which performed at venues in Los Angeles.
Dan has studied privately with Ellen Johnson and Asunta Fleming.
In 2002 Dan sang on an album of Dixieland standards called How Jass Music Is Made with The Untouchables.
In 2006 Dan sang the album Happy Feet with the Dixieland band Ulysses Jasz.
Dan continues to sing with his own Dixieland band, Dan Willard and His Old School Jazz, and his own jazz band, The Dan Willard Jazz Band.
---
Asunta Fleming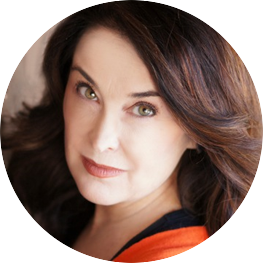 Life in the entertainment field began for Asunta Fleming with a tour portraying Maria in West Side Story throughout New England. She was soon performing in concert with Doc Severinson at the Brevard Opera Center and landed a contract over thousands of other hopefuls from across the country as a "Kid of the Kingdom" with Walt Disney World Entertainment.
After being a casual host on PM Magazine, Asunta studied at the Burt Reynolds Institute working with Julie Harris, Vincent Gardenia, Charles Durning, Jerry Herman, Charles Strouse, Allan Arkin, George Chakiris, Annie Potts and many other luminaries under the direction of Charles Nelson Reilly.  She landed her first national commercial with Boss Haag of The Dukes of Hazzard and went on to became the first host for Travelvision International on the Travel Channel.
In Hollywood, Asunta has continued working in commercials, films, TV (including Soaps) and Equity Waiver.  She co-hosted Girl Talk, a very successful talk radio show, and narrated industrials.  She was the voice for two characters along with 10-time Grammy Award winner Sandi Patty in an animated family feature film, The Lion Of Judah. Asunta has sung on four film soundtracks, including Possessed starring Chistopher Plummer and Timothy Dalton, recorded two CDs titled "With You" and "Spellbound," and published a book with Putnam New York.
In Florida, Asunta's portrayal of Lilli Vanessi/Kate in Kiss Me Kate garnered overwhelming critical acclaim for her vocal and comedic ability, welcoming her back to her first love – the stage. Since Kiss Me Kate, Asunta has performed as the Ghost of Christmas Past in The Christmas Carol, Mrs. Robinson in The Graduate, and both Molly and Miss Havisham in the musical adaptation of Great Expectations. She also tackled the challenging role of Salt Of Her Tears in the theatrical drama based on the devastation of Hurricane Katrina in the world premiere of How Katrina Plays. Recently, Asunta played the lead role of Rose in another world premiere musical Rose Bowl Queens under the direction of acclaimed director Kay Cole.
As a cabaret headliner, Asunta has performed in concert with Doc Severinsen and has opened for Lorna Luft and Rosalind Kind.  She has also performed her own cabaret shows at the Gardenia Club and at Sterling's Upstairs at Vitello's in Los Angeles.
Asunta is involved with school systems furthering music education and bringing exposure to opera, operetta, art song and the Great American Songbook. Through her Voice Studio LA, she is guiding the development of dozens of young artists located across the country with her professional vocal coaching and career consulting.
---
Smitty & Julija
Smitty West
Smitty is an award-winning songwriter and music producer, and is also the founder of "Ojai Songwriters Anonymous," a songwriter support group promoting the craft.
Smitty's home is Euterpe Farms, a native plant farm in Ojai, where he produces regular gatherings to celebrate local music and nature.
His other activities include international humanitarian landmine action, opera and theater, and sound engineering through his private studio and record label, Euterpe Music Company.
He released a solo album in 2008 titled, Your World, a collection of 12 original songs, spanning genres of folk, rock, metal, and country. He was the manager and keyboard player for Ojai-based original rock band, Myridian, and producer of the band's full-length cd, Prime Myridian, in 2007.
Julija Zonic (Soprano)
Julija is the co-founder of Ojai Youth Opera Company. Born in Bosnia and raised in Croatia, Julija started her music journey at an early age studying classical music and voice as part of the world famous Girls Choir, Zvjezdice. Her own studies and teaching are based on Italian Belcanto technique, preparing students for a lifetime of singing. After studying opera, she won a leading role in the musical Circle that toured for three years, changing the direction of her musical career. Now a US citizen, she is active teaching voice while recording and performing.
Smitty and Julija have recently released a tribute album of songs of Leonard Cohen, "Smitty and Julija, To Leonard With Love." They perform regularly in the Ojai Valley.