Dan Willard and His Old School Jazz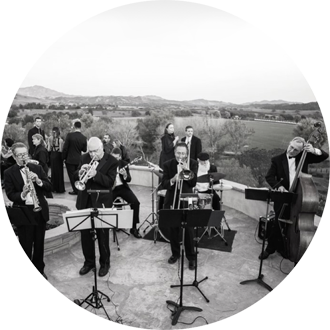 Dan Willard, clarinetist, sax player, trumpeter, and singer leads this band of top notch professionals to recreate the joyful sounds of New Orleans 20's jazz.
The full band is the traditional line up of trumpet, clarinet, trombone, piano, banjo, tuba (or bass), and drums but is also available in smaller sizes.
Dan Willard (Clarinet/Sax/Vocals)
Dan's bio can be found here.
Ron Barrows (Trumpet)
Ron has toured with the following orchestras and celebrities: Harry James, Buddy Rich, Mel Torme, Liza Minnelli, Don Menza Quintet, Roger Williams, Gerald Wilson, Benny Carter, Buddy Collette, Lido De Paris show Stardust Hotel, Las Vegas (for 7 years), Monterey, Chicago, Detroit, North Sea (Holland) and Verona (Italy) Jazz Festivals. He plays solo cornet with the Los Angeles Symphonic Winds and has been on too many recordings to list here.
Ira Nepus (Trombone)
Ira was born in Los Angeles, California and was raised on the jazz heritage of his father, one of the key founders of the Hot Club of France in Paris during the late Thirties and was featured in his first jazz concert at the age of 15. During this time, he performed side by side with Kid Ory, Johnny St. Cyr, Joe Darensbourg, Barney Bigard and Rex Stuart. Ira gives equal importance to all styles of jazz, from traditional on up through contemporary. Ira played with many members of Louis Armstrong's first Hot Five Band during his formative years, including Kid Ory, Johnny St. Cyr, Tutti Garland". Also, later with Trummy Young, Barney Bigard, Joe Darensbourg, who performed and toured with Louis Armstrong during the 50's, 60's, and beyond.
Todd Temanson (Banjo)
Todd has performed at dozens of leading West Coast jazz festivals including Sacramento, Pismo Beach Jubilee By The Sea, San Diego, Three Rivers, and Coos Bay, Oregon. He has also performed at numerous venues ranging from the Hotel Del Coronado to the Madonna Inn and Disneyland. Todd has played in numerous pit orchestras for live theatre and also played banjo with a symphony orchestra performing George Gershwin's Rhapsody In Blue. During his musical career he has performed with Joe Darensbourg, Wild Bill Davison, Lance Buller, K.O. Eckland, Wally Holmes, Marc Caparone, Eddie Erickson, and many others.
Tom Lee (Bass)
Tom Lee's music ranges far and wide, from traditional jazz to country, Hawaiian, and bluegrass. As a skilled bassist, he has toured with the Cache Valley Drifters, the Bluegrass Cardinals, Tom Ball and Kenny Sultan, and other artists; and he has a long list of recording credits that goes back to the '70s. Tom founded and directed the popular Song Tree Concert Series in Goleta from 2002 to 2014, bringing eclectic local, national, and international music to the Santa Barbara area.
Dave Bazinet (Drums)
Dave Bazinet was born in Glens Falls, New York and began playing drums at age 6. At age 15 he was playing in night clubs in New York City. When he was drafted into the Army he was privileged to be in the Presidential Honor Guard, Fife, and Drum Corp. He played at various venues in Washington DC including at the White House for President Johnson. After their service several of his colleagues in the Army got together to form a band called Albany Beef and toured the United States for eight years and at one time headlined for the Righteous Brothers. In 1968 they were hired to play at the Falcon Lounge in Santa Barbara and played there weekly for five years. Dave has played for several groups in Santa Barbara, among them, Peter Clark, Ron Anthony, who played the Biltmore for seven years, Kim Collins, and Jim Argiro. He was the music coordinator for five years at the Four Winds where he played with Cathaway/Garcia, Jill Miles, and various jazz musicians. For 17 years he played drums for the Inner Light Community Gospel Choir including playing at the Gospel Music Workshop of America around the United States. Currently he is the drummer for the First Presbyterian Church of Santa Barbara praise team and continues to be featured with various groups for private and local gigs.