Kalinka is a Santa Barbara klezmer band available for weddings, parties,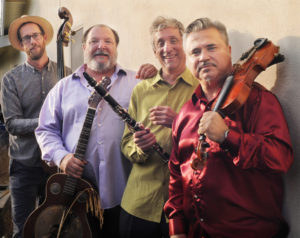 and other events in Santa Barbara and surrounding areas.They have performed for countless weddings and bar mitzvahs as well as for the Santa Barbara Jewish Festival, the Live Oak Music Festival, and Ojai Earth Day,  . Their repertoire includes Jewish klezmer music, Balkan music,Roma music, gypsy swing, and Middle Eastern melodies.
The band members are Fred Nadis on clarinet, Eric Ederer on guitar and oud, Daniel Moltke on violin, and Andrew Fedders on bass.
For more info and to hear audio clips please click here.