Kalinka is a Ventura klezmer band available for weddings, parties, bar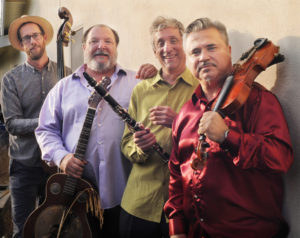 mitzvahs, and other events in Ventura and surrounding areas. The band began in 2009 after a spontaneous performance at a Passover Seder. Their repertoire is a mix of Jewish klezmer, gypsy jazz, French café, and Eastern European folk music.
Kalinka has performed for numerous festivals and events including Ojai Earth Day, The Live Oak Music Festival in Santa Barbara, and the Santa Barbara Jewish festival. The band is currently comprised of four members, Fred Nadis on clarinet, Eric Ederer on guitar and oud, Daniel Moltke on violin, and Andrew Fedders on bass.
For more information and to hear audio clips please click here.